I know mom, it's tempting some mornings to completely forget about feeding our little humans. Some mornings feel like the best we can do is survive. Your 4-year-old is busy hitting her brother over the head with a wood puzzle, the baby just puked on your new work outfit, and you're already twenty minutes behind despite waking up an hour early!
I get it, the mornings can really suck!
Sometimes the first thing we give up on is trying to feed our overly fussy children their breakfast. Little alone trying to make sure it's a healthy breakfast. Seriously, who has time for that?
I'm not judging because we skip breakfast a lot and that's what prompted me to do a little research on the risk that it poses to my daughter now that she is in full-time preschool.
So, what is at risk when kids skip breakfast? 3 reasons to never skip breakfast again!
Let's break it down.
Affiliate links are included below. This means I will receive a commission if you purchase any of the items I recommend, at no additional cost to you. These are items I use myself and believe in their benefits!
#1 Academic performance
Studies show that we need breakfast to function. Our kids need breakfast to accomplish the many demands put upon their little brains and bodies every day.
Think about how you would feel taking a test without food. How does your body react to hunger? When kids skip breakfast they are less likely to:
Remember what they are being taught
Focus to answer questions
Follow directions
Stay awake
Read fluently
Remember what they have learned
#2 Good health
When you don't eat breakfast, the bodies' blood sugar is too low and causes unhealthy fluctuations that lead to weight gain, insulin resistance, and cardiac issues. A simple breakfast with a good dose of protein can help prevent big fluctuations in blood sugar.
Kids need breakfast to grow a healthy brain. When starting the day out right with a healthy breakfast, you are giving your child the tools to grow strong healthy minds.
Check out Brainy Breakfasts where you will find 40 grain-free, brain-fueling breakfast recipes and information on foods that supercharge your child's brain!
[clickToTweet tweet="Did you know breakfast is the best way to fuel your kid's brain?! #healthy #breakfast" quote="Did you know breakfast is the best way to fuel your kid's brain?!"]
#3 Healthy eating habits
Breakfast helps you get more nutrition. The average modern diet is lacking nutritional basics and kids learn by example. By starting your kid's day out right with a healthy breakfast you are giving them a chance to take in vital nutrients. It's also a great time to offer your child a multivitamin.
Our favorite multivitamin:
Flintstones Complete Children's Multivitamin
The key to breakfast success is planning ahead!
Make breakfast easier by prepping it ahead of time and reheating it in the morning.
Read my best tips and tricks for a nightly routine and print my free nightly routine to help you get started!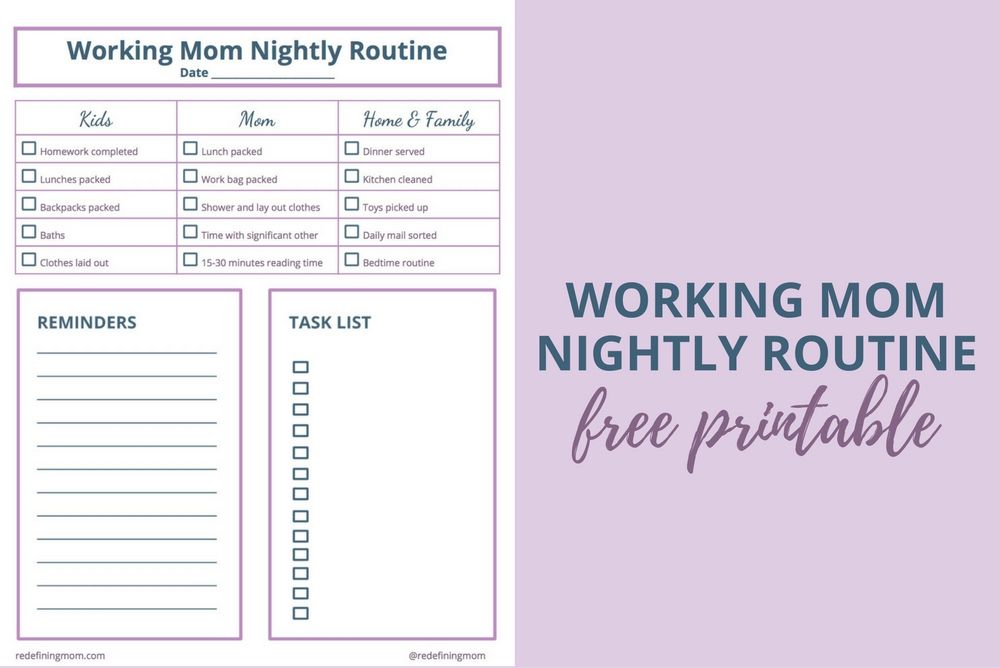 [clickToTweet tweet="The best way to make sure your kids eat a #healthy #breakfast every morning is to plan ahead!" quote="The best way to make sure your kids eat a #healthy #breakfast every morning is to plan ahead!"]
Want more time management tips?
Check out my resources page for a ton more great tips and tricks. Plus visit these articles for more advice:
5 Practical Time Management Tips for Working Moms
5 Top Time Management Tips for Moms
7 Guilt Free Ways to Make Time for Yourself
Pin it!