This post may contain affiliate links, which means if you purchase from one of these links I will receive a commission. Please read my full privacy policy for more information.
Pinterest has changed for content creators, forever. Why? Two words: Pinterest IPO.
Pinterest began trading on the New York Stock Exchange (NYSE) in mid-April 2019. They filed their Initial Public Offering report (S-1) in February 2019. I've been following the news quite closely since I offer the only comprehensive Pinterest ads course (aka promoted pins) on the market today.
I spent the first 11 years of my career working at a publicly-traded company. During that time, I went to school for my masters in finance. This makes me qualified to offer my opinion on what this means for the future of Pinterest marketing for bloggers and content creators.
As someone you've trusted as a source of Pinterest knowledge, I believe it's my job to educate you on what it means for YOUR business now that Pinterest is publicly traded.
Go grab a cup of coffee. This is a long blog post, but 100% worth reading if you want Pinterest to be part of your marketing strategy for years to come.
What We Now Know About Pinterest
In their official S-1 filing to the SEC, Pinterest laid out a lot of interesting facts about where they stand as a company and where they are headed.
Yes, I did read the entire 184-page S-1 filing for myself. I am not just regurgitating to you what the news has to say!
**Please note: This is my personal interpretation of their S-1 filing. It is up to you, as a potential advertiser on Pinterest, to do your own due diligence and research before investing marketing dollars on the Pinterest platform.**
With 265 million active users and over 2 billion monthly searches, the report says, "Pinterest is the productivity tool for planning your dreams. Dreaming and productivity may seem like polar opposites, but on Pinterest, inspiration enables action and dreams become reality. Visualizing the future helps bring it to life. In this way, Pinterest is unique…We call it discovery."
In other words, Pinners users come to Pinterest to plan, discover, and, more importantly, make a purchase.
Which means Pinterest is a hot platform for advertisers.
Pinterest laid out its value proposition for advertisers with the following Pinterest facts:
Two-thirds of active users are female.
43% of internet users in the US are on Pinterest.
8 out of 10 moms in the US are on Pinterest. Pinterest states, "Moms are often the primary decision-makers when it comes to buying products and services for their household."
More than half of US millennials are on Pinterest.
Pinterest households are 39% more likely to buy retail products and they spend 29% more than the average household.
97% of the most popular searches on Pinterest are unbranded. This means smaller advertisers (like us!) have the opportunity to stand out and bring people into our sales funnel without competing against big brand names.
68% of Pinners have discovered a new brand on Pinterest – great for those of us who are not Target!
On average, Pinterest produces $2 in profit for every $1 spent on ads. That's some amazing ROI right there!
5 Key Facts About Pinterest Ads
1. Pinterest acknowledges they are in the very early stages of building their advertising platform.
Something I've been saying for the past two years. I strongly believe Pinterest ads are still in their infancy stage. This means as a potential advertiser, you have the opportunity to be an early adopter and gain an edge on the next big advertising platform.
2. Pinners are led on a journey when they come to Pinterest.
They come looking for inspiration and come back when they are ready to take action. This means advertisers have the opportunity to natively get in front of potential buyers at every stage of their buying journey.
3. Promoted Pins are native ads.
Pinterest stresses in their filing that ads on Pinterest "do not compete with the content Pinners want to see—they are native content. The mutually beneficial alignment between advertisers and Pinners differentiates us from other platforms where ads can be distracting or annoying."
4. New ad products are on the horizon.
Think Facebook messenger ads. A few years ago, messenger ads didn't even exist! I'm not saying that Pinterest will have messenger ads, what I'm saying is they will begin to think outside the box with their ad products. Ad variety = more opportunities for advertisers!
5. Pinterest is a place of inspiration.
While many social media sites can be negative, brands want to inspire their potential customers which makes Pinterest an ideal advertising platform.
Risk Factors Involved with Pinterest Advertising
To be fair, advertising is never without risk. Here are some key points Pinterest points out in their filing.
The majority of the revenue they make from advertisers is centered in the consumer packaged goods and big retail space.
ALL of Pinterest's revenue comes from advertising and is heavily concentrated in the US while their user base is growing at a faster rate internationally.
As demand by advertisers increases, Pinterest risks not being able to scale to the demand if they cannot continue to increase their active user base.
The cost of advertising may increase with demand.
If they are unable to create new advertising products it may hurt their ability to grow.
They are heavily reliant on third-party software for providing relevant ad data and result metrics.
Pinterest Business Statistics
Pinterest is rapidly growing its revenue with advertising.
Revenue was up 60% in 2018, up from 58% in 2017.
Gross margin was up 68% in 2018, up from 46% in 2016.
Expected revenue growth in Q1 2019 is 54%.
Simply put, advertisers are spending more money on Pinterest. This is a good thing. It tells me that they have a viable advertising model. (Even though I already knew that…lol!)
How Do I Use Pinterest to Promote My Business?
The elephant in the room is this:
Will Pinterest go the way of Facebook and decrease organic reach forcing us to pay for ads to retain traffic to our sites?
One of the most interesting soundbites in their report stated,
"Some of the actions that we may take to make our content more useful and relevant may reduce traffic that we drive from our platform to the websites of third parties, which may reduce their willingness to contribute content to our service or support the continued availability of that content on our service."
They go on to say,
"Businesses also create Pins on our platform in the form of both organic content and paid advertisements. We believe the addition of organic content from merchants adds significant value to the experience of both Pinners and advertisers. We expect that these Pins will become a larger part of our content in the future."
In my opinion, this is what they are saying: Yes, we need content creators to produce content to keep our business viable but we also need the content to be fresh and relevant for what people are searching and taking action on. This is the only way we can continue to appeal to advertisers. Advertisers are the only reason we are in business.
Now, this creates an interesting dynamic.
Pinterest needs to create a great user experience with amazing content provided by content creators and they need advertisers to keep the lights on.
So, what does this mean? There is no way around it… Pinterest will become more pay to play over the next few years.
However, while organic reach is undoubtedly going to go down to make room for more advertisers, it's not going to completely disappear as long as you are providing fresh and relevant content that Pinners actually want to see.
3 Ways Pinterest For Business Will Change in 2019 2020
These are my predictions for how Pinterest marketing will change for content creators in 2020.
1. Decrease organic reach slightly in favor of more ad spots.
As discussed earlier, advertising is the only revenue Pinterest receives. Now that they have shareholders to please it's inevitable that they'll make space for more ads.
January 2020 UPDATE: This has definitely started to happen as predicted.
2. Make significant improvements to their targeting options and conversion reporting.
They just launched conversion campaigns to everyone… one week ahead of their public offering. This was a calculated and smart move on their part to appeal to a broader range of advertisers and grab the attention of potential investors.
January 2020 UPDATE: While they haven't made many improvements to targeting options just yet, the conversion campaign algorithm has gotten a lot better. What does that mean? Easier, cheaper, and better conversions for email subscribers and sales!
3. Launch at least one new ad product.
Think Facebook Messenger ads — those didn't exist just a few short years ago! I'm not saying it will be Messenger ads, I'm saying it will be something different than what we see today.
January 2020 UPDATE: They've started to make a big push for video… despite the fact it doesn't convert nearly as well… yet!
Do You Rely on Pinterest For FREE Website Traffic?
I've been saying this for a while and I'm going to say it again because I think it's super important.
Pinterest has been giving content creators free traffic for years. In order to keep a stable and growing platform, it was inevitable that they would start developing paid advertising. After all, they are a for-profit company. Not a charity.
So while content creators became dependent on Pinterest for traffic, Pinterest was dependent on content creators for new and engaging content to keep the platform attractive to consumers.
Neither party (content creators or Pinterest) can expect to continue to grow without financial investment.
It's simply unrealistic and not how things work.
Pinterest scratches content creators' backs and now they expect some back-scratching in return… with ad spend.
Frankly, I think this is a good thing.
If Pinterest hadn't launched an ads platform, it was only a matter of time before the platform died.
For this and so many other reasons, I am a firm believer in promoted pins and I think you should give them a try, too.
You still have a chance to be an early adopter of the promoted pins platform and get ahead of the rush.
Any time you can be the first to learn something, you're always in a better position to gain momentum.
Will Pinterest Be The Next Big Advertising Platform?
I hope you can see I've done my homework and did my very best to lay out the facts as it relates to Pinterest and Pinterest ads.
I'm not here to push advertising on you if it's not the right fit for your business.
I'm here to tell you, in my professional opinion, that I strongly believe Pinterest has amazing potential as the next big advertising platform. Particularly if you have a heavy concentration of customers in the US who are female and have children. And let's face it, my brand is Redefining Mom, so many of my followers fit this demographic!
One last interesting fact from the filing I want to share with you before I tell you about my program.
"The global advertising market is projected to grow to $826 billion in 2022 from $693 billion in 2018. The digital advertising market alone is projected to grow to $423 billion in 2022 from $272 billion in 2018."
No matter how you look at it, advertising isn't going anywhere. If we're going to continue to compete to be heard and seen in the online space, the end result is this: advertising is a necessity for growth.
What's Next? Pin Practical Promotions, The BEST Pinterest Ads Course!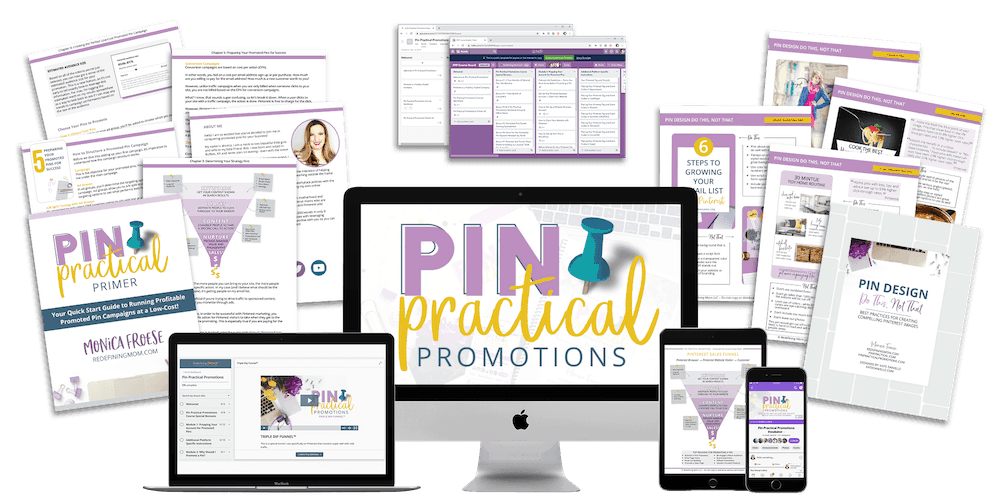 Given everything above, I've received an influx of requests to enroll in Pin Practical Promotions, your next-level course on how to strategize, implement, analyze, and refine profitable promoted pin campaigns at a low-cost to you!
With over 1,000 students already enrolled in Pin Practical Promotions, I know what you need to do in order to be successful at running Pinterest ads.
Right now is the perfect time to integrate Pinterest ads in your business and I'm 100% dedicated to making sure you have all the pieces in place to make your ads profitable. That includes a viable sales funnel!
Ready to win big with promoted pins?
You'll be in good company inside our exclusive student Facebook group. You'll have access to some of the most successful content creators around!
You've got this! I can't wait to help you scale your business with Pinterest ads.
Pinterest Marketing Tips
Exactly How Pinterest's Rapid Growth in 2019 Impacts Small Businesses
The Quick Start Guide to Dominating Pinterest Ads
The Best Types of Pinterest Ads for Driving Sales
7 Essential Pinterest Marketing Strategies
Pin It!