I'm sharing my best blogging and online business resources with you. I've been blogging for six years. Three years ago, I quit my corporate job and started working in my online business full-time. I'm sharing my favorite tools for running an online business with you. These tools save you time and stress and make running your online business a little easier!
These are the resources I have found most helpful in my online business journey. Please note that some of these links are affiliate links. That means that I will receive a commission if you decide to purchase the product. Everything I recommend (that costs money) I have personally used and truly believe provides value. If I have not used the product myself I will let you know in the description.
Featured Resources
Pin Practical Promotions is a deep dive into promoted pins (aka Pinterest ads).
WHAT YOU'LL LEARN...
How to strategize your campaigns so you don't waste money
Detailed examples of how to set up successful promoted pin funnels
How to target the right people for your campaign based on your objectives
The tactical side of setting up your website to optimize for conversions, installing the right codes in the right places, and advanced training on setting up your campaigns
A detailed breakdown of how to read those (not so) scary analytics reports and how to use them to your advantage
In Pin Practical Influence, we dive deep into 3 effective affiliate marketing funnels for Pinterest.
WHAT YOU'LL LEARN...
How to really make money passively by pinning affiliate links on Pinterest
 How to successfully master affiliate launches using Pinterest (I've made over $18,000 on a 5-day launch using this strategy!)
 How to use affiliate links on Pinterest with promoted pins
 Proven strategies I've used to generate thousands of dollars from Pinterest using affiliate links
 Everything you need to know about nurturing affiliate sales from Pinterest
 Real examples of successful affiliate funnels
In Pin Practical Masterclass, you'll learn how to convert free Pinterest traffic into email subscribers.
WHAT YOU'LL LEARN...
 Treat your Pinterest account like a search engine
 4x the likelihood of getting found in search results with strong keywords
 5 principles for creating click-worthy Pinterest images
 An automation strategy that works + takes less than 30-minutes a week to manage
 The easy guide to interpreting Pinterest analytics and how to use data to your advantage
9 strategies for converting free Pinterest traffic into customers
Do you have a digital or physical product you know can change lives but have no idea how to sell it? You can snag the exact sales funnel templates I've used to make over half a million dollars in less than two years!
You'll get my 6 top-performing sales funnel templates that can help you explode your email list and convert sales.
My undated Blog to Business planner will help you organize your blogging goals, create actionable to-do lists, and crush your blogging goals for the next year! The best part? Just print out a new copy each year and keep planning.
Leadpages is the software I use to build all of my landing pages. Not only do I build beautiful and high-converting landing pages, but I also use their LeadBoxes feature to insert text and picture links into all of my blog posts to collect email addresses. I grew my email list to over 14,000 in under a year by investing in LeadPages. I build all my sales pages (such as, Pin Practical Ads) using their drag and drop template. This is by far the best investment in a tool that I've made in my business!
An alternative to LeadPages is OptinMonster.
I moved my email service provider over to ConvertKit! If you are looking to take your email marketing to the next level, ConvertKit is where you need to be. They offer advanced marketing automation funnels through segmentation, automation triggers, automated sequences, and landing pages that are easy to set up and allow you to streamline your business and increase sales at the same time.
Learn how to use ConvertKit for free using my ConvertKit Tutorials
An alternative to ConvertKit is Constant Contact.
Thinkific is my online course platform where I host all of my online courses and trainings. Thinkific has helped me grow Redefining Mom into a 6-figure brand.
Redefining Mom Freebies
Free Pinterest courses
Traffic resources for Pinterest
Email marketing done-for-you email sequences
Budget planning
...and much more!
Online Blog Training and Courses
Elite Blog Academy is a course by my favorite and very first blogger that I ever followed, Ruth Soukup of Living Well Spending Less. She is a blogging guru and her 12 unit course helps you turn your blog into a business. You can check out my review How I Become a 6-Figure Blogger with Elite Blog Academy. This course is only available once a year, so be sure to get on Ruth's email list so you don't miss out next time it opens.
Simple Pin Collective is a membership community that provides you with incredibly up-to-date information on all things Pinterest. The owner, Kate, actively shares her knowledge in the Facebook group so you can stay on top of the latest trends through teaching and group coaching calls.
Blog By Number this course leads you through the step-by-step process for starting your blog. Suzi breaks down all of the behind the scenes tech details to make getting your blog online easy peasy. Blog By Number is an awesome pre-course to Elite Blog Academy.
Affiliate Marketing for Bloggers is my new go-to affiliate marketing course and for the price, you really can't beat it! Tasha takes you through the backend of her blog to show you exactly how she implements her affiliate marketing strategy. You're not only getting the basics of affiliate marketing in this course, but you'll also learn exactly how to use affiliate strategies that work for bloggers in all niches! I particularly love that Tasha's main website is not for helping bloggers learn how to blog. She uses these affiliate strategies to run a 6-figure home decor blog!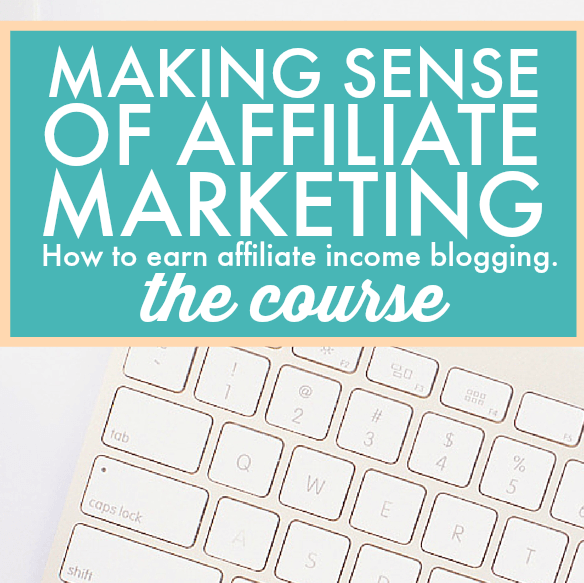 Making Sense of Affiliate Marketing written by Michelle of Making Sense of Cents. She makes over $50,000 A MONTH in affiliate marketing and gives away all her secrets on how to successfully make money through affiliate marketing in this course.
I just did an interview with Michelle that you should check out to learn more about what the course has to offer: How to Earn Money with Affiliate Marketing
Affiliate Marketing for Bloggers - Everything Your Missing by Carly Campbell of Mommy on Purpose recently launched an amazing affiliate marketing course at a very affordable price. As an advanced blogger, I learned a ton of new strategies from her course and I highly suggest intermediate and advanced bloggers who are looking to make passive income with affiliate marketing take it!
Browser to Buyer is a new course offered by Abby Lawson of Just a Girl and Her Blog. Abby and her husband Donnie are experts when it comes to converting website traffic into email subscribers. The one thing I am the most passionate about in online business is growing your email list. Unlike social media, your email list is an asset in your business that you own. In this 3-part series, you'll learn exactly how to turn causal website viewers into loyal fans!
Proofread Anywhere is a proofreading course written by industry expert Caitlin Pyle. Learn the skills you need to start your freelance proofreading hustle.
Absolute Facebook Ads is THE course to learn everything you need to know about Facebook Ads and how to master the Power Editor.
Conquer SEO is the course I took from Learn to Blog Hangouts that covers everything you need to know about leveraging search engine optimization with Google.
Stupid Simple SEO by Mike Pearson is my go-to recommendation for learning about Google Search Engine Optimization. Organic Google website traffic is the type of traffic you want. It's more sustainable and converts into sales better.
Bloggers Tell All is an exclusive membership community of bloggers led by 8 professional bloggers who collectively make millions of dollars every single year. It's an incredible price for access to some of the industry's top bloggers!
Strategic Email Marketing for Bloggers by veteran blogger Marnie Craycroft is an email marketing course that shows you how to nurture and connect with your email list. Using her methods, you'll be able to increase sales in no time.
30 Days or Less to Freelance Writing Success a course by Gina Horkey from Horkey Handbook that breaks down the exact steps to start a freelance writing business that she used to go from $0 to over $7,000 in just 12 months. Gina offers fantastic advice which I not only implemented for pitching clients but also in my own writing on here.
30 Days or Less to Virtual Assistant Success is another course by Gina Horkey that takes you behind the scenes on how to be a successful Virtual Assistant. Gina became a VA early in her freelance career to supplement her income and started earning over $4,000/month while still working full-time.
Advanced Pinterest Marketing Education
Adventures in SEO is a course by my good friend, Lena Gott from Adventures in Blogging and What Mommy Does. Lena is an expert at all things SEO (search engine optimization). She takes Pinterest keywords to a whole new level by showing you how to leverage Pinterest and Google SEO together. This course will seriously blow your mind!
Adventures in SEO is only open a few times a year. While you wait, grab Lena's awesome 5-day traffic & monetization mini challenge.
Leverage your Pinterest skills to make more money! Become a Pinterest VA Today shows you how to turn your knowledge of Pinterest into a lucrative income stream by managing Pinterest accounts. Gina and Kristin are experts at showing you exactly how to find new clients and manage them with ease.
In Pinteresting Strategies, Carly Campbell took the Pinterest world by storm over a year ago when she coined the phrase manual pinning to describe how she drives over 200,000 page views to her blog without using a scheduler. I am a strong proponent of investing in and learning multiple strategies. It's important to try multiple techniques to see what works best for you. Carly's eBook is now a course and doesn't disappoint. I also know Carly very well and can't say enough good things about her.
Along the line of learning multiple strategies, Pinning Perfect was the first Pinterest course I ever took. The creators, Melissa and Anna, have been teaching Pinterest marketing since 2013. Their strategies are time-tested and very practical. Melissa runs a 6-figure blog by working only 5-10 hours a week on top of her career at Burt's Bees. I know Melissa very well and strongly recommend everything she has to offer. She's super smart!
Click Below to Read My Ultimate Beginners Guide to Blogging!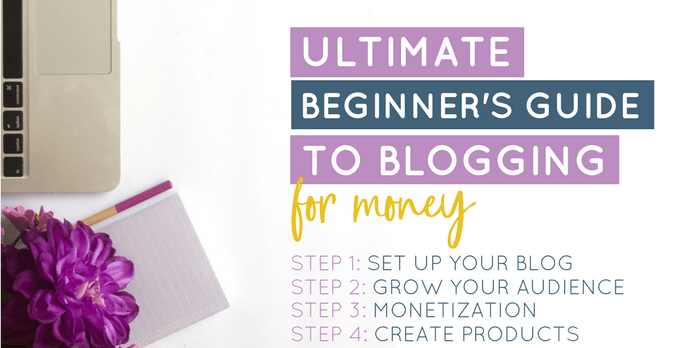 Blogging Tools
Setting up your website
Genesis a popular framework for WordPress, my site is built using the Genesis framework.
Restored 316 offers beautiful child themes for the Genesis framework.
Bluehost is the hosting company I recommend to host websites.
Looking to start a website but don't know where to start? I have step-by-step instructions on how to set up your domain, hosting account, WordPress, and domain email: How to Start a Blog and Make Money From Home
Namecheap this is what I use to register all my domain names.
iMark Interactive owned by Grayson Bell, who is my website extraordinaire (i.e. he makes sure my website it always up and running)! In the beginning, having someone on retainer to help you with the technical side of your website won't be necessary but as you grow, this is something you will want to consider. Grayson also does work that's not on retainer so if you are hitting a roadblock, he's a great place to start!
Financial tools
PayPal setting up a separate business PayPal account for sending and accepting money is a good idea. There is an option for invoicing with a PayPal business account which is useful for when you start getting clients. Plus it's free to set up.
SendOwl is a digital product delivery service that allows you to sell digital products and set up affiliate programs. I connected my PayPal and Stripe accounts to it and I was ready to sell my Easy Budget and Financial Spreadsheet within minutes!
Thrivecart in an online shopping cart that provides a high-converting checkout experience for your customers.
Freshbooks is an awesome company that many entrepreneurs use for accounting software. Not only can you use it to track your income and expenses, but they also allow you to send professional looking invoices in less than 30 seconds. On average, their customers get paid 4 days faster!
Social media tools
Tailwind this is the Pinterest scheduler I use on a daily basis to proactively schedule my Pins for the week or month.
Milotree is the slide plugin I use on my site to gather Pinterest followers. You can also use it for all major social media platforms and email subscribers.
Social Pug this is a WordPress plugin for social shares, it adds a section in WordPress below your content that allows you to control the picture and description that preloads when someone uses the social share icons on your posts.
Photography tools
Depositphotos this stock photo site has much better options than GraphicStock but it is also much more expensive. You can buy pay-as-you-go credits as needed.
PicMonkey is an online photo editing software that I use to create Pinterest images. I have the Royale Membership to gain access to all the extra features, including fonts that I use on all my images.
Canva is another online tool for creating pretty graphics for social media or marketing materials such as eBooks.
Tools to help you grow
Trello is the project management/organization tool I use to keep my business running smoothly.
Businessese legal contracts for bloggers and freelancers. This service is excellent, just download the contract and follow the instructions for your specific situation. Even though it is tempting to skip this important step, it is extremely important to have a contract in place before any money exchanges hands between you and a client.
HelloSign lets you send contracts to clients for digital signatures. The service also keeps an audit trail with the IP address used at the time of signing in case you ever run into an issue.
Acuity Scheduling is a calendar management tool that lets you sync your calendar to an online scheduler so that your clients can book meetings with you. It even connects to payment processors like PayPal and Stripe so you can collect payment before the meeting is even booked!
Zoom is the video conferencing software I use to host videos calls, webinars, and record Podcasts. The platform is super affordable and easy to use. When you record a call, it saves three files: video, audio, and chat transcripts. It's seriously the best and saves me so much time with my coaching clients!
Grammarly I honestly do not know how I lived without this before! Grammarly is a plugin I use in Chrome that proofreads everything I write around the web, including on WordPress, Twitter, Facebook, and many other places. It has saved me from some pretty embarrassing grammatical errors. There are free and paid plan options depending on your needs. I use the free version and it works for what I need.
G Suite allows you to use your domain email address using the familiar setting of Google Apps. I highly recommend that you do not filter your email through your hosting provider. The cost is minimal at only $5/user per month.
Need help setting up G Suite? Grab detailed instructions here.
The Useletter swoon, this is Amy Lynn Andrew's free newsletter, sent every Saturday. The ONLY newsletter I open religiously and it's FREE! This is what I like to call the free version of her My Knowtbook (which I highly recommend above!)
Moo.com is where I get my business cards from, you definitely need these for conferences and meeting with clients!
Books
How To Blog For Profit: Without Selling Your Soul is by the creator of Elite Blog Academy, if you are just starting a blog or looking to take your blog to the next level but don't have a lot of money to invest, this would be my recommendation.
Launch hands down the best resource for launching a product of any kind (book, course, etc.).
Blog Traffic Ebook: How I Went From 17K to 350K+ Monthly Page Views in 9 Months by Lena from What Mommy Does. I had the pleasure of meeting Lena at a business mastermind event recently and when she told me about her book I read it between sessions so I could talk to her about it. This book is full of practical advice on how to grow your blog's traffic.
Podcasts
Being Boss my absolute favorite podcast for creative entrepreneurs hosted by Kathleen Shannon of Braid Creative and Emily Thompson of Indie Shopography.
The Get Paid Podcast a practical podcast that discusses different strategies for making money as an entrepreneur.
ProBlogger is a podcast all about blogging by veteran blogger Darren Rowse.
The Smart Passive Income Pat Flynn talks about how to create multiple passive income streams.
Amy Porterfield's Podcast Online Marketing Made Easy is great for learning new marketing strategies.
Brilliant Business Moms talks to mom entrepreneurs about succeeding in business while balancing a family.
Boss Mom Podcast where women in all stages of raising their business and family go to get tools, tips, and support.
The Bix Chix Podcast Natalie provides practical and down-to-earth advice on how to raise a family and business at the same time. Every time I listen to an episode, I always leave with at least one actions step I need to take in my business that day!
More Blogging Resources from Redefining Mom
Ultimate Beginners Guide to Blogging: How to Blog for Money
What No One Tells You About Blogging and Motherhood
How I Made $7,000 on Autopilot with Pinterest in 3 Months
[convertkit form=1143048]
Pin it!