I know that many people track their family budget using pen and paper. There is something satisfying about writing down your financial goals or checking off a paid bill within your budget planner. I believe that if you don't write down your goals and track their progress then you will never achieve what you set out to do.
The same is true for finances. It's so important for families to keep track of where they stand financially and I am all for helping the busy family find a way to do that fast, efficiently, and effectively.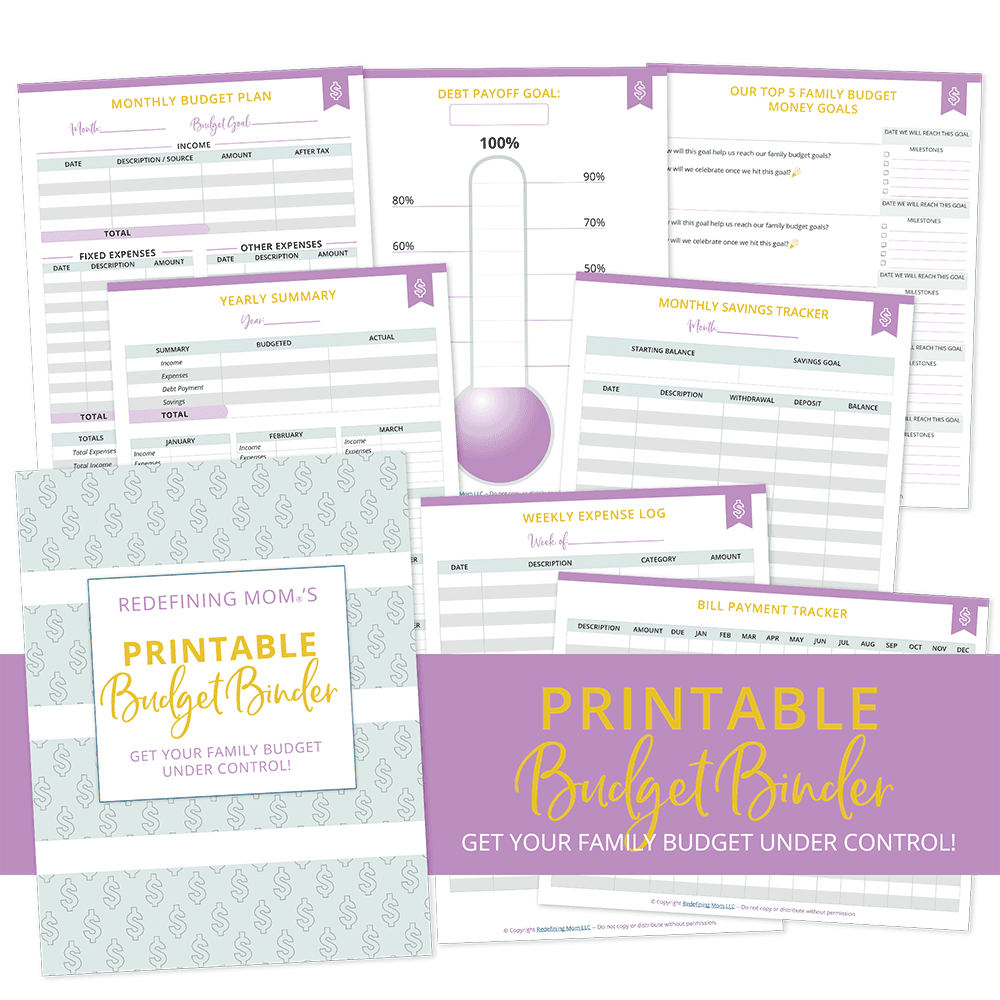 For my paper loving friends, I've created a FREE Printable Budget Planner just for you.
The FREE Printable Budget Planner Includes:
Weekly expense log
Bill payment tracker (so you check off each bill every month you pay it!)
Monthly bill payment log
Monthly budget plan
Debt payment log (track your progress!)
Yearly summary
Account tracker
Monthly savings tracker (set your goals!)
Check ledger
Debt payoff goal tracker
Top 5 financial goal worksheet
Front cover
1′, 1/ 1/2″, 2′, 3′, 4′ inch spine options
DOWNLOAD YOUR FREE PRINTABLE BUDGET PLANNER NOW
FREE Printable Budget Planner
Download my free printable budget planner and get your finances in order!
Family Budget Spreadsheet and Cash Projections
As a working mom, I know a lot of my readers live in a digital world and would rather track their budgets paperless. One of the biggest drawbacks to a paper budget is that it's hard to project out expenses and have a solid understanding of where you sit financially.
For example, if you project out all your expenses for a year and in the middle of the year an unexpected expense hits, do you know where that will leave you the rest of the year? You may have an idea, but we know that unexpected expenses come up a lot so why not have a way to project out your cash flow and understand your finances better?
Cash projections help you to plan better, save more, and spend less time in your finances. Being organized from month to month considerably cuts back on the time you need to spend paying bills, a perfect solution for busy families!
I recently put together the system I use to manage our family finances in Google Sheets. It's called the Easy Budget and Financial Planning Spreadsheet for Busy Families and it's basically what I live and breathe by with making financial decisions quickly and easily for our family. I include a 22-minute video showing how to set it up and use it to make monthly bill paying and projecting out your financial cash flow super easy!
If you feel like you spend way too much time paying bills every month, you have no idea what your cash flow will look like at the end of the year, or you have no digital organization of your finances, Easy Budget and Financial Planning Spreadsheet for Busy Families is a must-have!
The BEST Budgeting Resource Available
Ultimate Bundles has teamed up with some of the smartest financial experts around the web to create a bundle of eBooks, printables, courses, videos, and more, to help you master your money.
The Master Your Money Super Bundle includes 45 money & budgeting products valued over $1,200… for just $49.95!
This super bundle includes 14 eBooks, 9 Printables & Workbooks, 11 eCourses, and 12 videos.
More Resources to Help You Budget Better

This is the perfect compliment to the easy budget and financial planning spreadsheet. Budgeting for Budget Haters teaches you not only how to make a budget but how to stick with it. I don't know about you, but I have no problem deciding how much money I should be spending in different categories but when it comes down to actually sticking to it — I'm terrible!
Budgeting for Budget Haters takes the guesswork out of budgeting and puts you back in control of your financial future. The course is also super reasonably priced!

Created by Rosemarie Groner from The Busy Budgeter, the 90-day budget bootcamp is an awesome 60-page resource for getting your financial life in order.
Simple, healthy, and affordable meal plans to help you save on your grocery budget.
Created by Heather Farris from The Balanced Mamas. I worked with Heather for awhile and she's also a budgeting guru! This challenge is perfect for anyone looking to be more intentional with their finances.
Running an online business or blog is a lot of work. Keeping accurate records from the beginning will save you hours of time! This system will allow you to organize your business finances and accounts all in one place. Don't waste precious time searching for information that you can have ready at your fingertips all day long.
Pin it!