Sharing time management tips for busy moms is one of my favorite things to do. Before I left my corporate desk job earlier this year, I found that having a nightly routine was the single best thing I could do to keep life under control.
Today I am sharing with you the Working Mom Nightly Routine Printable! I used this to keep my sanity in check when my time was so limited every night. I'd print one page for each night of the work week and keep it in my planner. Each day I would use it to remind myself of important tasks I had to get done that night.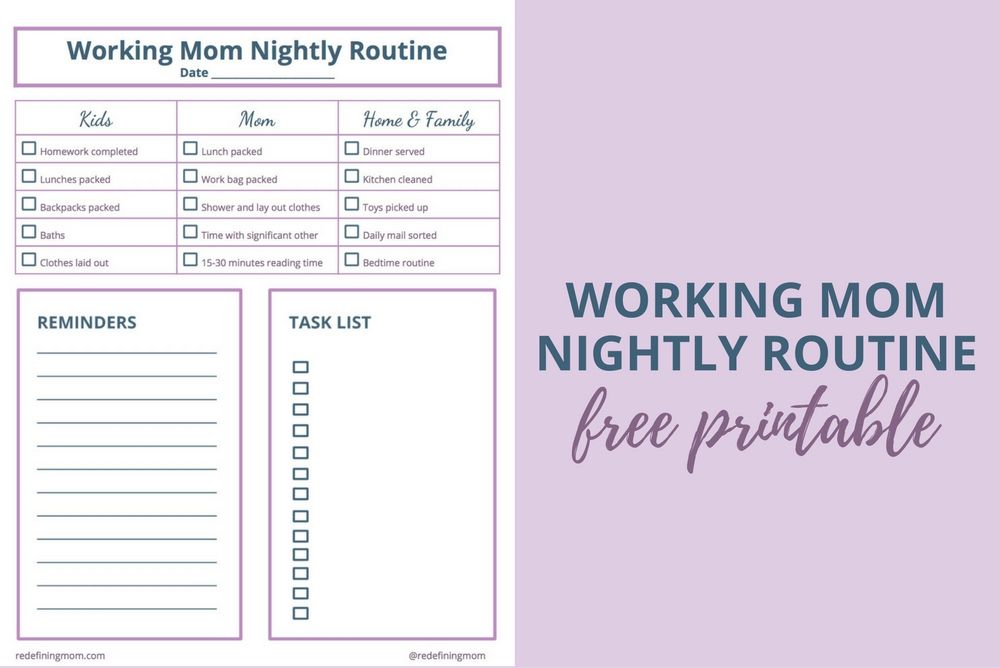 I kept it as a separate paper so that I could easily check everything off as I walked around and completed everything. I'd hang it on a board in the hallway upstairs before we started our nightly routine to make sure everything was taken care of.
I hope it will be just as much help to you as it was to me during my office days!
Affiliate links are included below.
My 5 Favorite Tools for Time Management
#1 A great course for learning how to leverage Google Calendar is Crystal Paine's free course Make Over Your Calendar. Crystal also offers two very reasonably priced courses called Make Over Your Mornings and Make Over Your Evenings which give amazing time management advice.
#2 Trello is the project management I took to keep track of my life! I still use Evernote to capture quick notes on the go but I organize everything in Trello.
#3 I recently put together the system I use to manage our family finances in Google Apps. It's called the Easy Budget and Financial Planning Spreadsheet for Busy Families and it's basically what I live and breathe by with making financial decisions quickly and easily for our family. I use it to make monthly bill paying and projecting out our financial cash flow super easy!
#4 Emily Ley's Simplified Planner is AMAZING! It's the perfect size for carrying between work and home and it fits perfectly inside my purse. LOVE, LOVE, LOVE!
#5 The ONE Thing: The Surprisingly Simple Truth Behind Extraordinary Results by Jay Papasan is a great book that explains how extraordinary results come from focusing on one thing. This book changed my mindset in determining what is important and what I can let go of. A definite must read!
BONUS TIP: I just launched my eBook Busy Moms Building: 12 Steps to Running Your Own Online Business for Busy Moms which teaches time management strategies for balancing work and family while building your own online business!


Looking for More Printables?
I've got you covered! Head over and print your FREE Printable Budget Planner.
Don't forget to also go grab my Abstract Adult Coloring 2017 Calendar Free Printable! Adult coloring is all the rage right now and I've had a lot of fun coloring my calendar for 2017!
Want More Time Management Tips?
Check out my resources page for a ton more great tips and tricks. Plus visit these articles for more advice:
5 Practical Time Management Tips for Working Moms
5 Top Time Management Tips for Moms
7 Guilt Free Ways to Make Time for Yourself
9 Must Have Apps for Working Moms
5 Must Have Productivity Apps for the Working Mom
Pin it!