This post may contain affiliate links, which means if you purchase from one of these links I will receive a commission. Please read my full privacy policy for more information.
In April, Pinterest became a publicly-traded company. This was a significant event for Pinterest and more importantly, YOU. Now, we get a close look into Pinterest's growth in 2020.
This is one of those long posts where you might be tempted to close this tab and move on. I promise if you give me 15 minutes of your time today, you won't regret it. In this post, I'm going to give you the reasons why Pinterest is a huge opportunity for your business backed by real data + what you can do right now to cash in on a profitable marketing strategy.
If you create content, sell products, or offer services and have relied on traffic and sales from Pinterest in the past… things started to change for you when Pinterest became publicly traded.
One of the most common things I heard buzzing around in Facebook groups were hysterical cries that Pinterest was now a pay-to-play platform just like Facebook.
I debunked this myth in my wildly popular Pinterest Initial Public Offering (IPO) Report.
Since I offer the only comprehensive training on promoted pins (aka Pinterest ads) on the market today, it's my job to follow what's going on with Pinterest's stock and report that information back to you.
Honestly, Pinterest being a publicly-traded company means we now have a front-row seat to exactly what's going on behind the scenes. I'm talking juicy facts that can impact your profit from Pinterest marketing.
Pinterest is required to report quarterly on their earnings in a report called the 10-Q with the Securities and Exchange Commission (SEC). Once again, I sat down and read the entire 70-page report for you!
As someone you've trusted as a source of Pinterest knowledge, I believe it's my job to educate you on what it means for your business. I've seen the backend of more than 2,000 Pinterest ad campaigns and personally supported hundreds of thousands of dollars in Pinterest ad spend.
The information I'm providing below is not regurgitated information I read in some highlight reel from Google Alerts. I took the time to read the entire 10-Q report so I could give you a fair and balanced opinion about the future of Pinterest and how it may or may not be a good bet for your business.
**Please note: What you will read below is my interpretation of Pinterest's S-1, 10-Q, and 8-K filings. It is up to you, as a potential advertiser on Pinterest, to do your due diligence and research before investing marketing dollars on the Pinterest platform.**
Are you ready to dive in??
The Pinterest Opportunity
In Pinterest's official S-1 filing to the SEC to become a publicly-traded company, Pinterest laid out a lot of interesting facts about where they stand as a company and where they are headed.
The only way Pinterest brings in revenue and thus profit for their shareholders is through offering ads, known as promoted pins.
This logically means if Pinterest is going to be a major player in your business then understanding the value proposition for advertising on the platform is going to be your key to success.
Pinterest laid out its value proposition for advertisers with the following demographic facts.
2/3rds of active users are female.
43% of internet users in the US are on Pinterest.
8 out of 10 moms in the US are on Pinterest. <– Pinterest states, "moms are often the primary decision-makers when it comes to buying products and services for their household"
More than half of US millennials are on Pinterest.
Pinterest households are 39% more likely to buy retail products + they spend 29% more than the average household.
97% of the most popular searches on Pinterest are unbranded. <– this means smaller advertisers (like us!) have the opportunity to stand out and bring people into our sales funnel without competing against big brand names.
68% of Pinners have discovered a new brand on Pinterest. <– great for those of us who are not Target!
On average, Pinterest produces $2 in profit for every $1 spent on ads. <– that's some amazing ROI right there!
That sounds great, but what happened once Pinterest stock started trading?
Ahh, the million-dollar question. It's exactly what every single investor was asking themselves. Will Pinterest live up to their potential or fall flat on its face?
One of the biggest criticisms, when the stock launched, was that it was overpriced.
The first 12 months of a new publicly-traded company are key to understanding the companies longevity in the market.
In evaluating Pinterest's most recent 10-Q report and 8-K report I asked myself two main questions:
Did Pinterest live up to its expectations for the first half of 2019? Short answer: YES
Is Pinterest a viable and stable marketing platform to invest in as a small business owner? Short answer: YES
If that's good enough for you, you can fast track your way right to learning Pinterest ads here.
If you're a fact-finder like me… read on. There is lot's of data and tips below to help you make an educated decision about Pinterest for your business!

4 Key Facts About Pinterest's Financial Performance In 2019
1. Pinterest reported better than expected revenue numbers in Q2 2019 bringing in $261 million in revenue.
This is a 62% increase over Q2 2018. <– Remember, this revenue comes directly from advertisers on the platform.
2. International revenue was up 199% year-over-year to $24 million.
Ad spend quadrupled in Canada. <– This is really good news. One of the risks that Pinterest pointed out in their IPO filing was that they had a weak international presence and needed to diversify the regions their revenue was coming from.
3. Pinterest expects to close 2019 between $1.095 billion to $1.115 billion verse previous estimates of $1.079 billion.
4. The average revenue per user is up to $0.88 from $0.69 the year before.
The average revenue per user in the US is $2.80 which is a 41% increase from the previous year. <– Think about this, an active user is spending more on Pinterest and the active user count keeps increasing. This is a very good situation for advertisers like you and me!
Pinterest's Growth in 2019
2019 has brought diversity in advertisers particularly more small businesses and niches like the auto and entertainment industries.
Pinterest is making good on its word to pursue international expansion for its ad business. Six new international countries are now eligible to run ads, up to 19 from 13, in Q2 including Denmark, Finland, Norway, Portugal, Sweden, and Switzerland.
30% year-over-year growth in monthly active users to over 300 million people. This came from 38% international growth, significantly in Canada and the UK, and 13% growth in the US. <– This is a big deal, in my opinion, consistent user growth on the platform means there is constantly new people to reach through ads we pay for.
The number of businesses that are leveraging the Pinterest Tag on their websites for Pinterest ads has doubled in the last year. <– This is significant because it shows that there is a substantial increase in interest for advertising on the platform. This, of course, leads to a growth in revenue for Pinterest and adds to the longevity and stability of Pinterest as a platform. I'd like to say I contributed to this with over 1,000 students learning how to run ads inside of Pin Practical Promotions! 😉
Fun fact: Pinterest now employs 2,005 people!
Improvements To Pinterest's Platform
Pinterest launched a new mobile ad interface.
This helps them compete with tech giants Facebook and Google by making ads more accessible to potential advertisers. <– Important note: never start an ad from your mobile app! You always want to start your ad from the backend of the ads platform.
Focus on improved personal user experience on the platform.
They are accomplishing this by focusing on providing personalized search recommendations to its users. Pinterest is reporting this new service has rolled out to approximately one-third of its users.
Improved engagement with video pins.
Pinterest is reporting that video pins are saved 40% more often than static images. Video views are also steadily increasing on the platform.
Significant strides have been made with shopping catalogs on the platform.
Pinterest says, "Pinners who have engaged with a brand can now see a module in their home feed that connects them to a catalog of Pins from that brand. And when a product Pin is clicked, more products from that brand now appear in the close-up so Pinners can browse by retailer, not just by visually similar items."
Where Pinterest is Still Failing
Lack of new ad products. I could argue their new ad product is shopping ads or even video ads but I don't think that's good enough. Just like Facebook, they will need to diversify their advertising sources. This may need to come in the form of an acquisition. Think about what Instagram did for Facebook!
Inability to move video impressions/views to clicks. The way Pinterest has video pins set up is incredibly frustrating. You cannot click on a video pin and go directly to a website. You have to open the pin and click a grey button with the web address. It is NOT intuitive at all. However, with video ads, you can click directly on the video and be taken directly to the website. This is making video ads way more appealing to advertisers.
Trying to compete with Instagram by launching story pins. Pinterest acknowledges that Instagram collections and Google image search results are direct competitors to their services. They also acknowledge that Instagram is making big moves in becoming shoppable in similar ways. Focusing on story pins as a means to compete with Instagram is a big miss in my opinion. I believe they should be focusing more on the shoppable aspect at this point.
Seriously, What Does This Pinterest 10-Q Report Mean?
Tucked under one of the numerous financial reports, I found this statement which tells the story of why you need to jump on Pinterest ads right now…
"ARPU (average revenue per user) growth in the U.S. and internationally was driven by higher monetization of both of those user bases largely due to an increase in advertising demand from new and existing advertisers on our platform. This resulted in an increase in the number of advertisements served as well as an increase in the price of advertisements, but the impact of the latter was not significant."
More businesses are starting to see the revenue potential for Pinterest and they are spending their marketing budgets on the platform now.
The more businesses that advertise, the more money Pinterest can charge to serve the ads.
Now you may be thinking… Monica, why would I want to pay more? This isn't good!
WRONG!
This is great news as long as you know how to run Pinterest ads the right way. Which is exactly what I teach you how to do inside of Pin Practical Promotions… how to run profitable ads while keeping your costs down.
Here's a secret I'll let you in on…
There is a huge ad inventory (meaning ad slots for Pinterest to fill) that are going unused right now! Small businesses (like us) are perfectly primed to swoop in and take these ad spots.
All of this works together. Pinterest is actively making improvements to its user experience and attracting more active monthly users so it has more ad spots to serve ads. Pinterest is very well aware that if they don't keep a healthy active user base then there is no value proposition for businesses to pay for ads.
Even more so, Pinterest acknowledges that its success depends on serving relevant results to its users. They are actively investing in making a more personal user experience which can only benefit us as advertisers. Reach more relevant people with our ads? Yes, please!
More ad spots + More advertisers willing to spend money = More revenue for Pinterest
More users who want to shop + Your ads = More revenue for YOU!
Here's what it boils down to: Pinterest cannot exist as a platform for our businesses to thrive on if they don't make money. They don't make money if businesses don't advertise. They also don't make money if they don't continue to improve their services and grow their user base for advertisers.
This is a win/win situation for us right now!
It's like a perfect storm for new advertisers to come in and learn the ropes before the news gets out that Pinterest is a revenue-generating paradise!
So, What Do I Do Next on Pinterest?
Now you have enough information to make an educated assessment about whether Pinterest is right for your business.
If you've concluded that your potential customers are on Pinterest and you're missing out on a goldmine… you've come to the right place!
In my signature course about Pinterest ads, Pin Practical Promotions, you'll learn how to properly lead your Pinterest visitors through a customer journey that leads to sales, email subscribers, and new clients for your services.
Once you have the right funnel in place (I show you 3 funnels that convert super well on Pinterest in the course), you'll drive targeted traffic to your site using Pinterest ads.
Are you wondering why so much focus on setting up a funnel for Pinterest?
Pinterest states it best…
One differentiating feature of our platform is that advertisers have the opportunity to put relevant content in front of Pinners at every stage of the purchase funnel, including during the early intent phase.
Pin Practical Promotions
I've received an influx of requests to enroll in Pin Practical Promotions, your next-level course on how to strategize, implement, analyze, and refine profitable promoted pin campaigns at a low-cost to you!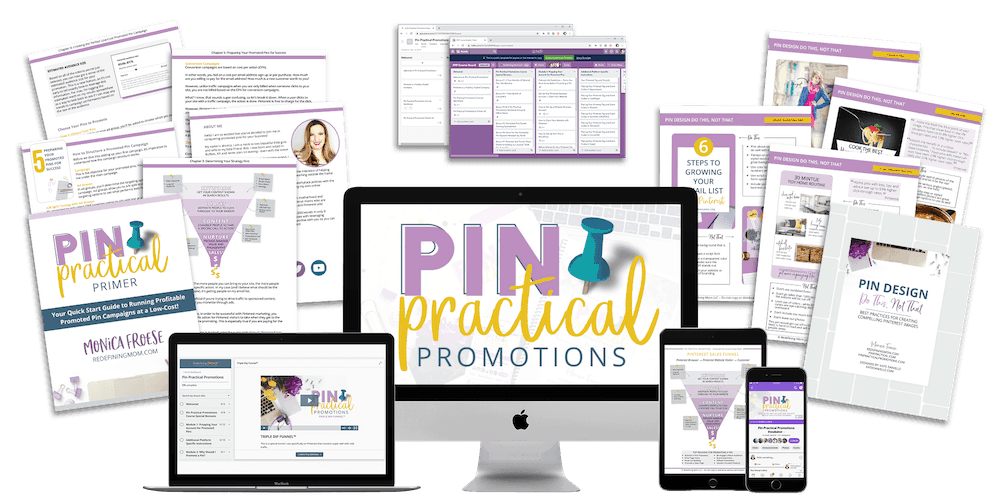 With over 1,000 students already enrolled in Pin Practical Promotions, I know what you need to do to be successful at running Pinterest ads.
You'll be in good company inside our exclusive student Facebook group. You'll have access to some of the most successful content creators around!
You've got this! I can't wait to help you scale your business with Pinterest ads.
Pinterest Marketing Tips
The Quick Start Guide to Dominating Pinterest Ads
The Best Types of Pinterest Ads for Driving Sales
7 Essential Pinterest Marketing Strategies
Pin it!