With so much buzz in the online marketing space about Facebook Ads, it's easy to overlook Pinterest ads. Don't make this mistake!
Pinterest is one of the fastest growing paid advertising platforms available. Even better, Pinterest ads cost less than Facebook ads in many cases and drive better ROI (return on investment) for its users.
One of the ways you can drive down the cost of your promoted pin campaigns is by retargeting leads.
But before you can dive into retargeting leads on Pinterest, I bet you're wondering which types of Pinterest ads work the best?
Today I'm going to answer that for you!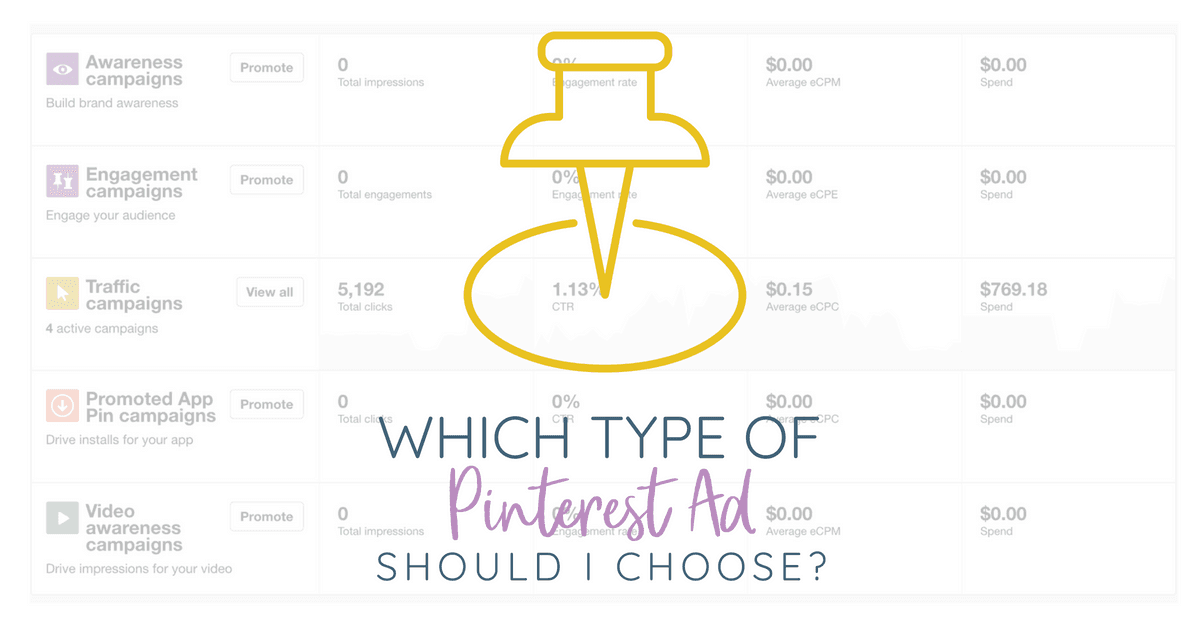 Which Type of Pinterest Ad Should I Choose?
In order to answer this question, you need to consider the strategy behind running your promoted pin campaign. What is your campaign objective?
Pinterest narrows your campaign objective options down to two categories: build awareness or drive consideration.
Build Awareness or Drive Traffic with Pinterest Ads?
I rarely pick awareness for my campaign objective. Brand awareness and video views are paid by the impression. Whereas traffic and app installs are paid when you receive a click to your website or an install of your app.
My objective is always to drive visitors to take an action. Traffic campaigns get me one step closer to my desired result.
Video campaigns are the newest type of campaigns to be added. You'll notice when you scroll through your Pinterest home feed that almost all of the video promoted pins are created by very large brands such as Target and Carters.
Since video campaigns are charged by impression, they can end up being costly, especially because they are new. My suggestion is to let the big brands work on the kinks and wait for video pins to be more common on the platform before considering this option.
Why Pinterest Traffic Campaigns?
In order to understand the why you first need to understand how a Pinterest funnel works.
At the end of the day, if you're paying for a Pinterest ad, wouldn't you want to make money off of the ad?
When you're paying for an impression of your pin, you're paying for the first two steps in the Pinterest funnel.
Your pin is shown in search results (keywords)
Your pin's image is driving brand awareness
This is the point at which you are charged by Pinterest if you choose a brand awareness campaign.
You can't actually make a sale just by having your pin seen in the Pinterest feed.
Traffic campaigns get you to the next step, paying for the click to your website and getting your content seen. Once your content is clicked on, you can now convince your new potential customer to take an action. An action is referred to as a conversion in the advertising world.
Since a click gets you one step closer to a conversion, you'll want to choose traffic campaigns as your main objective when running Pinterest ads.
Make sure to follow these 8 simple steps for preparing your website for Pinterest ads to track conversions.
The BEST Type of Pinterest Ad: Traffic
A traffic campaign is the only type of promoted pin that charges based on clicks to your website. It's the most economical way to spend your money on Pinterest. Pinterest ads cost less in the long run when you choose traffic as your campaign objective.
Even if your objective is to grow brand awareness, you can still do that by only paying for clicks. Promoted pins are designed to push your pin out to thousands of people in order to optimize it for clicks. Thousands of people are viewing your pins — that's called an impression. Utilizing a traffic campaign allows you to build brand awareness and page views to your website, but you are only paying for the click. Genius, right?
How Much Should Pinterest Ads Cost?
In this example, I've been running a campaign for only 3 days. I've received 8,972 impressions, 392 clicks, and I've paid $.14 cents on average for each click.
Impressions = how many times your pin has been shown in the smart feed, related pins, or search results (if you selected for your promoted pins to show in all of these places).
Clicks = the number of clicks you received to your website
CTR = click-through rate (with the introduction of one-tap campaigns, I strive for 1% or higher for my CTR)
CPC = cost per click is the average of how much you've paid per click to your website (the minimum you can bid is $.10 USD)
How Does One-Tap Impact Pinterest Traffic Campaigns?
As of August 2018, Pinterest has introduced a mandatory one-tap system for all of their traffic campaigns.
On Pinterest, we're used to clicking on a pin from the Pinterest feed and going to the close-up of the pin.
This is what a close-up of a pin looks like.
In the close-up view, the user can see more information about the pin before making a choice about whether or not to follow through with the click to the website.
Now, users will make the decision to click right from their feed.
How To Make Your One-Tap Pins Convert
With one-tap you're asking the user to make a decision with no other information other than the picture and text overlay of your pin. You don't want to waste money paying for clicks from people who are not actually interested in your content.
Leverage text overlays on your pin images to explain what your content is about and present them with a call to action that entices them to click.
Pinterest Ads One-Tap Recommendations
Since users will no longer need to click twice to get to your site, your CPC (cost per click) should go down and your CTR (click-through rate) should go up. In my Pinterest ads course, I teach to start bids at $.20 (which is a lot lower than Pinterest will recommend).
Promoted pins allow you to target keywords based on broad, phrase, and exact matches. Under the keywords section in your ads dashboard, you can also see the exact search queries people found your promoted pin under. This is helpful data, especially when using broad match keywords. Since we get charged as soon as a user clicks on our pin, I want to make sure I'm showing up in relevant search results. Because of this, I am changing my campaigns to phrase match for the time being.
Instead of focusing on the exact number of keywords you should use in your promoted pin campaign, I would encourage you to find as many relevant keywords that you can for what you are promoting and upload those keywords as phrase match.
Your creative (image) and text overlay should make it super obvious what your pin is about. You'll want to make sure people know what they are clicking on so that you only pay for relevant clicks. Pinterest users won't have a second chance to decide whether or not to click by going to the close-up, make it obvious!
Are you ready to set up your first Pinterest ad campaign?
Your Step-By-Step Guide for Running Successful Pinterest Ads Series
Pin Practical Ads — a free training how to create the perfect low-cost Pinterest ad campaign
Pin Practical Promotions — an advanced-level Pinterest ads course on how to strategize, implement, analyze, and refine low-cost promoted pin campaigns
8 Quick Steps To Prepping Your Website for Pinterest Ads
The Easy Way to Retarget Leads Using Pinterest Ads
The Best Types of Pinterest Ads For Driving Sales <– this post!
More Pinterest Marketing Tips
7 Essential Pinterest Marketing Strategies, Everything You NEED to Know!
10 Easy Fixes to Increase Blog Traffic Fast with Pinterest
How I Made $7,000 on Autopilot with Pinterest in 3 Months
The Secret Behind How to Make Money on Pinterest (It will blow your mind!)
Pin Practical Funneling: Free 5-Day Pinterest Challenge
Are you ready to turn your Pinterest visitors into paying customers?
Pin it!