This post may contain affiliate links, which means if you purchase from one of these links I will receive a commission. Please read my full privacy policy for more information.
Just when we think we have a handle on our Pinterest marketing, they go and make some pretty major changes to their algorithms, again. The folks at Pinterest really shook things up, bringing about some pretty major shifts in the way their platform will work going forward and what we as content creators can expect. The good news is the changes are beneficial for content creators like you and me!
A few months ago, I flew out to San Francisco with my biz bestie, Heather, to attend the first ever Pinterest conference and we learned so much! Right now, Pinterest is in the midst of making some major changes and putting the focus on content creators. This blog post is a living/breathing document which I'll continue to update as updates roll out and changes are made.
Below you'll find the latest Pinterest marketing strategies that are working right now.
To make this as easy as possible for you, I've included the 1-hour long Facebook live Heather and I hosted inside the Redefining Mom® Facebook group.
https://youtu.be/SjxIUzx-pPs
Don't have time to watch? I've got you covered! Download the complete transcript below.
How to Effectively Use Pinterest for Bloggers and Content Creators — The Complete Transcript!
I've made it super easy for you by highlighting the most important points from the video on the transcript. Make sure to download a copy because I do not talk about all of the important points from the transcript in my blog post below.
2019 Pinterest Marketing Strategies You NEED To Know About
So, unless you live under a rock, I'm sure you've been hearing all the buzz about the recent changes on Pinterest. First, let me assure you, change is a good thing. Pinterest must always be changing and continuing to grow if we expect to grow on the platform too. Can you imagine if Google never updated their algorithm or made changes? No one would ever trust search results and the phrase "Google it" wouldn't even exist in our vocabulary. The same would be true for Pinterest. How many times do you hear someone found their cool ideas or awesome recipe on Pinterest? I know I hear it all the time and I want to keep hearing it!
That's number one… change is a good thing. DO NOT PANIC. We will figure this out together.
I'm not saying that change means we can keep doing the same thing and expect the same results. Change usually means we need to adapt our strategies to fit the new landscape.
[clickToTweet tweet="Change equals business growth! #blogging " quote="Change equals business growth!"]
So as we head into these new waters, please keep in mind that change is a good thing.
Adapting to Change
What this does mean is that we have to adapt to the new way of doing things if we expect to grow right along with the Pinterest platform. In this post, I am going to share many of the ways you need to adapt and the easiest way to be current with your Pinterest marketing.
I am in the midst of doing major updates to both of my Pinterest courses and will let you all know when that is complete, but for now, I want to at least give you the most current information regarding your Pinterest marketing strategies for 2018.
Let's look at some of the biggest and most important changes, and then I will give you some concrete action steps to take so that you can put a plan in place and begin to work that plan.
7 Pinterest Marketing Strategies For 2019
First, let's talk about the change that is likely going to make you happy, happy, happy.
Pinterest Strategy #1: Leverage Pinterest's New Profiles To Attract Your Ideal Customer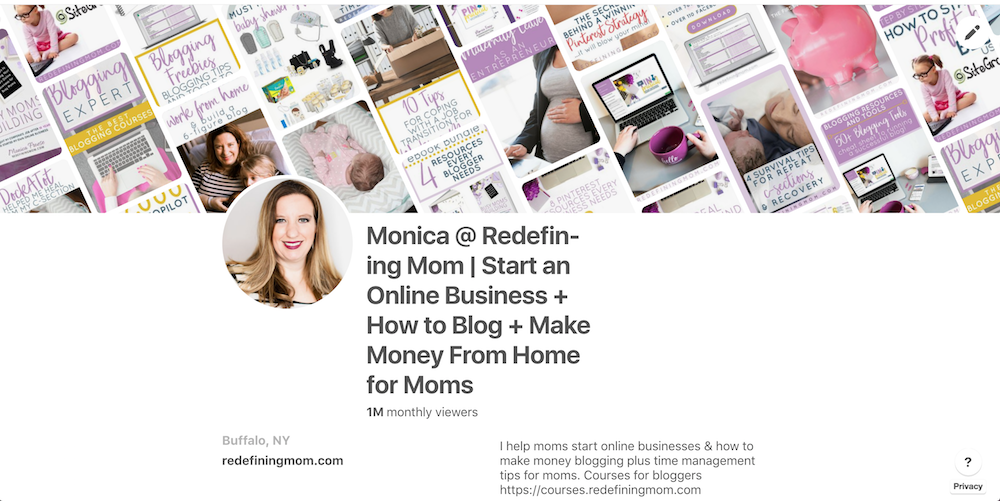 Not everybody is seeing these yet, so if you aren't, just hold tight because it's coming to you as long as you have a business account. Here's what you can expect from the new profile…
Cover banner

for your homepage. You can choose which pins you want to be displayed here. My suggestion is to use your "best of" board pins or your latest pins.

Overview tab

that allows you to see the most recent pins you've saved, most recent boards you've saved pins to, and pins that others have saved from your verified domain.

Follower tab

that shows your actual number of followers. This one is right smack in the middle of a whole bunch of new tabs on your profile.

Monthly views that your profile receives is now visible and

 shows the actual number of people who saw your content.

Board tab now lets you see order your boards in different ways.
Action Steps For Your New Pinterest Profile
Choose the pins for your cover banner. If you have a "best of…" board, choose that.
Click on the new tabs and see how everything works.
Experiment with getting your boards in the order you want them. Don't spend any more than 5-10 minutes on this activity, as Pinterest has stated that board order doesn't play into the new algorithm at all.
Pinterest Strategy #2: Get Your Pins Seen In The New Pinterest Following Feed
[Topic starts at 20:25 in the video]
Here's where the troops start getting nervous. Remember, change is good and you have to grow with the platform.
This one made me stop and say, "WHAT?" But yes, it is exactly what it sounds like. You can now choose between the smart feed and the following feed. If you choose the following feed, you will see the latest and greatest pins from the people you follow. It's like stepping into a Pinterest time machine. This tab is chronological so you can actually see the newest stuff your friends are pinning.
What's Important About The New Following Feed?
Engagement: Here's the thing about the new "follower algorithm"; if your followers engage with your pins within the first few days after you pin them, Pinterest will show them to more people in search and the smart feed. And if they don't…well, they won't place distribution priority on those pins. This means engaged followers are important. You want your followers to engage with your content when you first publish it on Pinterest.
Fresh Content: Newer content will also get a little bit of a boost by the new algorithm. Fresh content is defined by a new image to a new or old post.
Hashtags are here to stay. Hashtags work best for timely or seasonal content because hashtag feeds are in real time. You should include 4-5 relevant hashtags in each pin description.
Action Steps To Take Advantage Of Your New Pinterest Following Feed
Look at your following feed and relish the thought that you can once again try to guess who's pregnant from the pins they pin. Seriously though, see who's following you and determine if they are your target market. If they aren't, make a plan to reach out to your ideal audience. My recommendation is to reach out to your existing followers on other social media platforms and your email list and ask them to follow you on Pinterest. I highly recommend the WordPress plugin, 

MiloTree

.

Create content consistently. The 3 C's of Pinterest marketing. If you aren't creating content, your pins won't be shown as often in the smart feed. If you need help in this area, download a free editorial calendar and begin now to plan out your content. Tailwind and Kate Ahl from Simple Pin Media worked together to create a free editorial calendar that works along with the seasonality of Pinterest.
Don't bother going back and adding hashtags to older material, instead use 4-5 hashtags in each pin description moving forward.
Pinterest Strategy #3: Pin Fresh Content To Relevant Pinterest Boards
[Topic starts at 32:53 in the video]
Pinterest had a lot to say about how they will be sending out your pins and which pins will be given priority.
Have you ever wondered how Pinterest decides which pins show up in the smart feed or what you can do to ensure that your pins get in there? 
The gist of it is that Pinterest wants fresh content and they want it from the content creator. If you write a new blog post, they want the first pin to come from you and they want it pinned to the most relevant board. You can certainly pin it to any other boards that make sense later but stick to the most relevant board for the first pin.
For example, if you write a post on how to start a blog, think about the most relevant board for that pin. If you have boards titled blogging, online business, and how to make money from home pin that post to the blogging board first. It's the most relevant board. You can schedule the pin to the other relevant boards later.
Before I schedule my pins in Tailwind, I use my Social Pug plugin to distribute new content to the appropriate boards.
A Note on Group Boards
[Topic starts at 32:26 in the video]
Pinterest has said the intended use for group boards wasn't for content creators to hack into someone else's audience and get exposure. They intended them to be used to collaborate with like content creators and to curate topics. Group boards should be used to curate great boards in a specific niche for your audience.
If you're getting traffic from a group board, don't just stop using it because Pinterest said group boards are dying. If you are getting traffic from a group board keep pinning to it. The move-forward strategy is to have a high emphasis on building out your own boards that are niche, specific and keyworded very well. 
Action Steps For Leveraging Fresh Content on Pinterest
Pin your new content as soon as you publish it. Pinterest gives a higher priority to content pinned by its creator and fresh is best. Fresh content can include a new blog post or a new image for an existing blog post.
Pin it to your most relevant keyworded board first and schedule to other relevant boards for later.
Spruce up old blog posts with fresh pins by creating new images.
Pinterest Strategy #4: The First 5 Rule is No Longer Relevant
[Topic starts at 15:56 in the video]
What was this rule?
Simply put, the first 5 pins you share at the beginning of the day are given distribution priority. 
The reason given for this "rule" is that if someone goes into their follower feed and you have pinned 100 pins earlier that day, they will literally only see pins from you for a ton of scrolling. In order to serve their users a steady stream of interesting pins, Pinterest said they will show the first 5 pins you pin to your followers and then the first 5 pins from the next person they follow and so on.
At my visit to Pinterest's headquarters, the developers told us this was a good rule in theory but it didn't really pan out to work the way they expected it to.
So what now? Your content is still being distributed to your following feed first to determine the level of engagement it will receive. Now it's more important than ever to pin when your audience is actually on Pinterest.
There are two ways to do this.
#1 Tailwind' Smart Schedule Feature
Tailwind has a smart schedule feature that will recommend popular pinning times for your account.
Go to publisher –> your schedule –> select the recommended time slots that are outlined green (it might take Tailwind a few weeks to make recommendations if your account is new)
#2 Google Analytics Referrals
In Google Analytics, you can see exactly when people are coming to your website from Pinterest by going to: Acquisition–> Referrals–> Pinterest and set secondary dimension to "hour" under time
Action Steps For Pinning Each Day
Decide on the times people are visiting your site from Pinterest every day by using Google Analytics
Set your smart schedule in Tailwind to match those times
Pin your best content
Pinterest Strategy #5: Use A Pinterest Scheduler To Save Time — But Only An Approved Scheduler + How to Avoid Spam
[Topic starts at 3:26 in the video]
Which is better scheduling pins or manually (live) pinning?
This question has to be one of the most common ones I get asked. There has been a lot of confusion on this topic.
The long and short of it is, you can use a scheduler with complete confidence. *fist bump* Pinterest in no way penalizes people for using scheduling tools IF they are approved. You can see a complete list of all the tools officially approved by Pinterest.
Tailwind is one of them and my favorite one to use.
Bonus tip: Branding your pins with your URL helps prevent your account from getting marked as spam per Pinterest.
Now let me say this: you are still going to see bloggers and others say that Pinterest said that they give priority to manual pinning. Pinterest has stated that there is no priority given to bloggers who pin live every day. They do strongly recommend that you log into the Pinterest platform on a regular basis to keep up with the fast-moving changes and connect with what your audience is looking for.
I will say my good friend Carly has an awesome book on manual pinning which I believe is worth reading. I think it's important to understand multiple strategies and techniques about Pinterest so you can figure out what works for your account.
You may also hear from others that, "Pinterest wants to see you being active on the platform in order to show your pins in search. Pinterest says,
"You're considered active when you're saving content on the platform."
This is essentially what I tell my students inside my courses. I'm happy to officially have it confirmed by Pinterest!
Now, are you ready to save yourself some serious time when it comes to managing your Pinterest business account?
Here's a video from my course, Pin Practical Masterclass, on how I use Tailwind to schedule my pins.
https://youtu.be/JdDJ0sL3oAs
Action Steps For Scheduling on Pinterest
Stop worrying about being penalized for using a scheduler and get your content pinned in whatever way works best for you.
At least once a week, log into Pinterest and pretend you aren't a blogger. Just enjoy the experience. Look up a recipe. Try a DIY project. Check out the latest fashion.
Watch my video on how to use Tailwind.
Pinterest Strategy #6: Follow Pinterest's Style Guidelines For Creating Compelling and Clickable Pins
[Topic starts at 1:06:54 in the video]
You may have seen the conversations all over the web recently concerning the newest ratios for pins, the latest talk about pin descriptions, and what type of images work best. You can check out Pinterest's official style guidelines on their site.
Pin Sizes
The ideal ratio for pins hasn't changed; it has always been a 2:3 ratio. The newest guideline from Pinterest is 1000px wide x 1500px long. 
Pin Descriptions
This is where so much confusion comes in when you talk about Pinterest marketing. People are still keyword stuffing their pin descriptions. 
Pin descriptions should be conversational in nature, contain a strong call to action (such as learn more, shop here, sign up now, download this awesome printable), and include 2-3 longtail keywords.
Hashtags
As I mentioned above, hashtags provide a real-time feed for users. According to Pinterest-
"Add up to 20 relevant hashtags. Pinners use hashtags to discover trending, relevant content. Hashtags should act as broad search terms, not niche humor (#springfashion is great, #ilookterribleinhats is not)."
The Best Images
When deciding on photos to use for your pins, choose lifestyle shots over product images every time. Lifestyle images grab the pinner's attention and are more effective at getting clicks than product shots.
Go for high-resolution, high-quality images that are clear and simple. Pins that are too "busy" often get scrolled right by. You want someone to stop and actually take a minute to look at your pin and then click on it. And be sure to check your own pins to see how they look on mobile devices as 80% of Pinterest users are on their devices while scrolling.
Action Steps For Getting Clicks From Pinterest
Begin using the new sizes recommended by Pinterest on all new pins. Go back to your most popular posts and create new pins if necessary to meet the new guidelines.
Think about the best way to write pin descriptions in order to get specific keywords in them along with keyword themes. Update descriptions on your most popular pins.
Add hashtags to your pin descriptions.
Get better at photography. WHAT? Seriously, if you want to have high-quality lifestyle shots for your pins, brush up on your photography skills. Begin taking photos for your pins instead of using stock images or product images from their website.
Pinterest Strategy #7: Implementation
Whew.
There is so much more I could say about the changes that are coming down the pike but I am going to stop before this blog post turns into a Pinterest course. 
I've created several free and paid courses to help you maximize your Pinterest reach and capture new customers.
These are listed in the order that they should be consumed.
Pinterest Image Canva Templates ($27) — Now it's time to make sure you're creating images that convert. In other words, images that convince Pinterest users to click on your pin.
Pin Practical Masterclass ($197) — A video-based course that includes everything you need to run a successful organic Pinterest strategy. This is perfect for someone who is not only ready to implement a Pinterest strategy in their business but also learn the more advanced concepts with analytics, and email marketing.
Sales Funnel Templates ($79) — These are the exact sales funnel landing page templates I use to explode my email list and convert sales. Use these to build your sales funnel templates while going through the following courses.
Pin Practical Influence ($197) — Once you've figured out your Pinterest strategy, it's time to move on and make money from Pinterest. The best way to do this is through affiliate marketing. In this course, I take you behind the scenes and show you how to make money on Pinterest with 3 unique affiliate marketing sales funnels.
Pin Practical Ads (FREE – $97 Value) —  Learn how to create the perfect low-cost promoted pin.
Pin Practical Primer ($49) — Your step-by-step guide for running your first profitable promoted pin campaign, the right way!
Pin Practical Promotions (price varies by launch) — Your next-level Pinterest ads course on how to strategize, implement, analyze, and refine profitable promoted pin campaigns at a low-cost.
Remember, change is good and it leads to growth. Do your research so that you thoroughly understand the changes that Pinterest is rolling out. Work your way through the action steps I have laid out for you in this post. I guarantee that if you get that done, you will feel 100% better about growing right along with the platform.
More Pinterest Marketing Tips
The Secret Behind How to Make Money on Pinterest & it will blow your mind!
How I Made $7,000 on Autopilot with Pinterest in 3 Months
10 Easy Fixes To Increase Blog Traffic Fast With Pinterest
5 Steps to Creating Free Pinterest Templates in Google Slides
Pin It!