This post may contain affiliate links, which means if you purchase from one of these links I will receive a commission. Please read my full privacy policy for more information.
As you may know, if you've been reading Redefining Mom for any time at all, I recently gave birth to our second baby girl. After a traumatic first birth experience and working through the resulting postpartum PTSD, I was happy to be able to begin thinking about the fun part of expecting a new baby.
What's the fun part, you ask? That's easy…it's buying all the cute things you need for a new baby!
Here is my list of 10 must-have baby essentials for second-time moms!
Do I Really Need More Stuff?
Granted, once you've had a child, you don't need quite as much the second time around. You probably have most of the basics taken care of unless you got rid of everything for some reason or you need to replace worn items.
On the other hand, if you have all the basics taken care of, now may be a great time to invest in some of those "extra" things that you know will make life easier as a mother of more than one child. Things like having a swing for each floor of your house or a car seat for each car can be a real asset.
We live in a rather small house for a family of 4 so I knew I couldn't go overboard on a wish list for our second baby girl, but I also knew there were things that would make having a newborn along with a 5-year-old much more doable and way less stressful for me on a daily basis.
Before I went on a shopping spree, I asked the wonderful ladies in my Facebook group what their favorite "must-haves" were for second babies. These women never disappoint with their willingness to share and this was no exception.
Thanks to their suggestions, I went into my second birth feeling pretty secure that I would be set up for success once baby girl and I came home. And so far, I was right. I am thoroughly enjoying everything we invested in this second time around and would highly recommend that you go through the list and pick some things that would be a help to you as you go from Mommy of 1 to Mommy of 2!
10 Baby Essentials I Can't Live Without in 2021
Now that my second baby is 5 months old, I am keeping an updated list of everything we're using over on Amazon. As I find new things that make my life easier, I'm adding them to my New Baby Essentials List!
There were a few items that were mentioned over and over again in the Facebook thread. When more than a couple of moms tell me that I have to have a certain item, I listen. The following 3 items are the things I deemed a priority when I knew baby girl #2 was on her way.
When you are considering items to purchase for a second child, you have to be careful not to let "stuff" overtake your house. I am always looking for items that serve more than one purpose and the DockATot does just that. It serves as a multi-function lounger, a co-sleeper and transition helper for toddlers.
Handmade in Europe of 100% natural cotton, the DockATot creates the ideal microclimate for both babies and toddlers and is the perfect solution for the toddler-bed transition.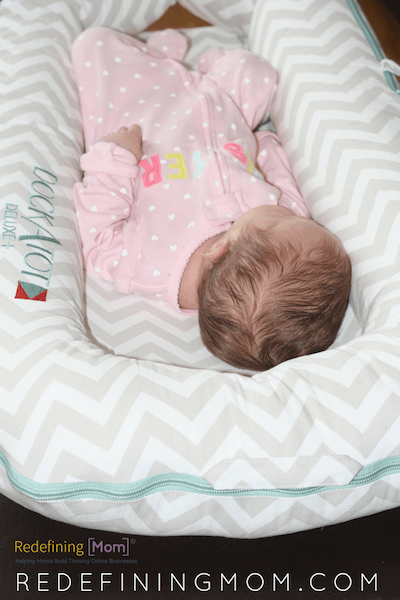 The DockATot comes in 2 sizes, Deluxe for 0-8 months and Grand for 9-36 months. Talk about multi-function! How many products can you get 3 years of use from when it comes to babies and toddlers?
As parents, we have to be extremely conscious of safety, especially when it comes to our children's sleeping arrangement. With the DockATot, you can relax. It is OEKO-TEX certified and has been tested for breathability. You can feel good about putting your child to bed knowing they are in a safe environment.
I found the DockATot to be a lifesaver after my c-section. No more bending over in pain to pick up the baby!
The Items That Save Mom's Sanity
#2 Pack and Play

I lost track of how many women in the Facebook group mentioned this Pack and Play. This item is a lifesaver for many moms. The moms used words like, "amazing", "saved my life", "couldn't have made it without my Pack and Play".
I will add my own testimonial for the magic that is the Pack and Play. Having a solution that is portable and includes a changing table and storage is amazing.
#3 Baby Carrier or Wrap

Another popular thing to have for your second baby, which most moms called a must-have for baby #1 as well, is some type of baby carrier or wrap. Some of the favorites mentioned were the Moby, the Tula, and the Ergobaby 360.
#4 High-Quality Breast Pump

Whether you plan to breastfeed, bottle feed, or a mixture of both, having a high-quality breast pump is a must. Medela is the industry standard for breast pumps and is worth its weight in gold. If you have to or plan to pump, you need a Medela. I have the Medela Backpack Style Pump and I recently invested in the Medela Freestyle Pump for baby number two. I can't stress enough how amazing it is to be able to pump hands free!
Update: After exclusively pumping for 9 months, I have to say the Medela Pump in Style backpack is far superior in suction and emptying both breasts efficiently. The only time I ended up using the Medela Freestyle Pump was when I had to pump on the plane because of its portability.
I traveled a whole ton while I was pumping with baby number two. Here are all of my traveling and pumping tips.
#5 A Stocked Bottle Station
A bottle station in the kitchen is convenient for dealing with daily washing, filling, drying of bottles, and for storing bags for breast milk. I use Medela's products for pumping and Dr. Brown's bottles for feeding. If you do plan to breastfeed, be sure to invest in some good quality nursing bras and tanks.
My absolute favorite bottles are Dr. Brown's. They reduce bubbles and helped tremendously with my first daughter's colic.
Did you know? You can get a free 30-day trial to Amazon Family which includes 20% off of diaper subscriptions, Amazon Prime benefits, baby registry benefits, and much more!
Mama Just Wants Some Sleep
It's almost a joke how little sleep moms get, except it's not really funny. The thing is, it's not just feeding and diaper changing and crying that keeps moms awake at night. Sometimes, it's just mom anxiety.
Yes, that's a thing and if you're a mom, you know exactly what I am talking about.
Have you ever stood there, holding your finger under baby's nose, to make sure she's still breathing? Ever laid there watching the clock and wondering why he hasn't woken up to eat yet? Ever counted the wet diapers in a day to be sure baby is going through the "right" amount? Or how about counting the ozs of milk taken if you're bottle feeding or pumping and wondering if it's enough or too much?
We moms don't lack for things to worry about, do we?
#6 Angelcare Baby Monitor
Several moms mentioned an item that helped with one of those normal mom worries and that is the Angelcare baby monitor.  There are many, many baby monitors on the market but if you want the extra security of knowing that not only are you monitoring baby's sounds and movements, but also his breathing, then the Angelcare is the one for you.
One of my biggest fears as a new mom was that my baby would stop breathing during the night or during a nap and that I wouldn't know it. The Angelcare monitor provides that feeling of security so that you can actually sleep when the baby sleeps without feeling anxious. And for an exhausted mom of 2, that's a pretty big deal.
When You Just Need Life to Be Easier
Being a mom is a lot of hard work. Bringing home baby #2 while caring for your first child adds a whole 'nother level of hard! Several things were mentioned by the Facebook group that are pretty much sheer convenience items…but if you have 2 kids and 1 of them is a newborn, convenience sometimes turns into a necessity.
#7 Diaper Changing Stations

Diaper changing stations are a huge deal. Just think, or maybe don't, about how many diaper changes you did on your first child. It's a scary number to consider. Having baskets containing diapers, wipes, diaper rash cream, changing pads, and extra outfits for those blow-outs, on each floor of your home, as well as in any room where you expect to be changing baby, is a no-brainer.
#8 NoseFrida

The NoseFrida I will admit is one of the scariest things I have ever contemplated using. Oh, the things moms will do.
Baby Travel Necessities
I am the queen of car seat safety. From making sure the clip is placed properly on the chest bone and the shoulder straps are properly placed. I also never let my kids wear winter coats while strapped into their seats. For our oldest, we buy a North Face every winter due to their slim designs.
#9 Infant Car Seat

After hours of research, we settled on the Chicco KeyFit 30 for both of our kids. Not only is it rated really well, its weight limit goes up to 30 lbs.
Our 6-year-old is still in her Chicco NextFit.
#10 Portable Infant Stroller

We are a very busy family and we travel a lot. After renting a double City Mini GT in Disney when our second was 5 months old and our oldest was five, we were sold! We bought a single for our youngest as soon as we got home. This is the cream of the crop when it comes to strollers. I've never pushed a stroller that was so easy to control with one hand. It's smooth and turns so well, especially in crowds.
When my oldest was smaller, we used to use the Chicco Liteway Stroller.
My husband is 6'4″ and it was a great cheap alternative with enough height to make it easy for him to push too.
BONUS: Baby On The GO!
Okay, ladies, this thing is amazing. How many times have you tried to figure out how to get the baby car seat attached to the shopping cart with no luck? And if you set the seat inside the cart, you have just lost 75% of the space you need for groceries. What if you also have a toddler or preschooler who needs the actual cart seat? It's frustrating, isn't it?
The Binxy Baby solves every one of those problems. This is a high-quality shopping cart hammock that can hold up to 50 lbs. What? You don't expect to have a baby that weighs 50 lbs?
I hear you. Get this though-this thing can hold the entire car seat with your baby in it. Let's say you get to the grocery store and baby is sound asleep in her seat. No more having to wake her up to put her in the carrier or transfer her to another seat. Just lift the seat out of the car and put it right in the Binxy Baby. And voila! Baby is still sleeping and is secure and safe in the shopping cart.
The Binxy has been through rigorous safety testing and fits all standard-sized carts. It serves babies up to 8 months, but if your baby decides to sit up on her own before then, you'll need another method for safe cart riding.
Use this link to save 10% on your Binxy Baby!
Most moms can tell you about the magic of swaddling. A baby can be flailing about, crying and unable to be soothed, and through the magic of swaddling, can go from frustrated to happily sleeping in just minutes.
Swaddling is important for several reasons.
Provides baby with a sense of security, resembling that of his mother's womb

Helps baby to stay asleep on his back, ensuring safer sleep

Decreases the startle reflex, allowing for deeper sleep and less waking

Proven to reduce colic and general fussiness

Helps keep baby warm, aids in breastfeeding, and prevents overstimulation
What I love about the Smarter Swaddle are the extra features that you just can't get from a standard baby blanket or swaddle. For example-
An opening at the bottom that makes changing diapers

while swaddled

super easy.

No overheating thanks to the moisture-wicking fabric.

A one-size baby item that allows a custom fit to meet the needs of your little one.

The Smarter Swaddle is machine wash and dry. Because what mom of littles has time to hand-wash anything?
Use this link to get 10% off your Smarter Swaddle!
Honorable mentions on the list were a double stroller and a pack-and-play with the infant attachment.
And that's it, moms! A huge, but not exhaustive, list of the items my mom friends tell me they can't live without. I would love it if you would leave a comment telling me your must-haves for your second baby.
Set Up Your Amazon Baby Registry
Did you know when you sign up for an Amazon baby registry you can save up to 15% on all the products you don't end up receiving? Yep! That's right. This was a lifesaver for us! Everything we threw out after our first daughter's birth, we were able to rebuy at a lower cost.
Don't wait, set up your Amazon Baby Registry!
Plus don't forget to check out my list of New Baby Essentials. I'm keeping this list updated as I find new items that are making our lives easier.
More Parenting Tips
Preparing For a Repeat C-Section and Recovery
Conquering Postpartum PTSD Birth Trauma
Maternity Leave for Working Moms
Pin it!