This post may contain affiliate links, which means if you purchase from one of these links I will receive a commission. Please read my full privacy policy for more information.
Let's face it, as a mom, you will always have too much to do. I bet you've read many time management tips for moms in your quest to figure it all out.
There will never be enough time in the day to get everything done on your to-do list. Let alone invest time into a hobby or passion project. What I've found to be most effective is to focus on daily, consistent actions that keep you from getting overwhelmed.
You may not accomplish everything on your to-do list, but being consistent and intentional in your daily actions will make the administrative side of managing your time seem effortless. The key to success is to create a system that works for you and stick with it. I've done it and now I'm going to teach you how to do it too.
Time Management Tips for Moms
#1 Write Everything Down
I talk about this all the time. When I write down my to-do list, action items, or random thoughts, I instantly feel free to let the thought go from my head. This helps to keep my head clear and more focused on what I need to get accomplished in a given day. There are many systems that work for keeping track of to-do lists, shopping lists, and action items. I recommend experimenting with a few different tools to see what works best for you.
Tools I use:
Evernote: I use Evernote to write down random notes throughout the day and keep track of my daily to-do list. I find this app the easiest to access on the go. Here is an example of an ongoing note I am keeping for household chores I want to get done over the long Memorial Day weekend. I guarantee if I didn't keep a running list of things I wanted to accomplish that weekend, the time would come and my husband and I would forget 75% of the things we wanted to accomplish and nothing would get done. This also makes it a lot easier to go shopping for things we may need for the weekend ahead of time. It doesn't have to be a complicated list.
Evernote is a powerful tool. I know people who use it to keep their entire digital life in order. A great resource for this is Brett Kelly's Evernote Essentials.
Google Docs: I keep all my notes for work, home, and my business organized in Google Docs. I chose Google Docs over Microsoft Word because it's free and I find it easier to access my files across all devices (I am an apple user).
Update April 2017
While I still love Evernote for quickly jotting down random notes or as my digital "scratch pad"… I've completely transitioned my entire life to Trello!
I set my yearly, quarterly, and monthly business goals in Trello and also use it as a resource repository. They have a nifty app so I can quickly update my VA when I need something done or if I screenshot something I want to reference later.
Recently, my friend Heather from Blissful Intent, got me hooked on using Trello for managing my family life and Ohh-Emmm-GGGGG!
You have to check out her 5 Trello boards for managing family life!
Other recommendations:
Wunderlist: for anyone who needs to check off their tasks, this app gives you the satisfaction of marking to-do lists complete.
Asana: a project management tool that's very user-friendly, you can break out projects into subtasks and add documents and assign team members.
Paper planners: I have used many paper planners throughout the years. The one I've found to work the best is Ruth Soukup's Living Well Planner. I am completely obsessed with her Daily Focus Sticker Sheets.
Bonus Tip
In my new course Busy Moms Building, I show you how you can manage your time efficiently when starting a new online business while still working full-time and spending time with your family!
#2 Keep a Spreadsheet with Important Information
I cannot tell you how much time I've wasted searching through my emails for the same information over and over again. What a waste of time! Now I keep a few spreadsheets to manage the majority of my digital life. I have a spreadsheet for our family budget, tax projections, financial information, business expenses, business accounts, important dates, and a family/friends mailing list. I'm sure I have more than this but these are the ones I reference every day and have open in my browser.
I recommend Google Spreadsheets for this because just like Google Docs, it's available easily on every device. Your information is just an internet connection away, plus you can save the file to your device for access while offline, and the share features make it super easy to share information with your husband or business partners.
Easy Budget and Financial Planning for Busy Families
I recently put together the system I use to manage our family budget in Google. It's called the Easy Budget and Financial Planning Spreadsheet for Busy Families and it's basically what I live and breathe by with making financial decisions quickly and easily for our family! I include a 22-minute video showing how to set it up and use it to make monthly bill paying and projecting out your financial cash flow super easy!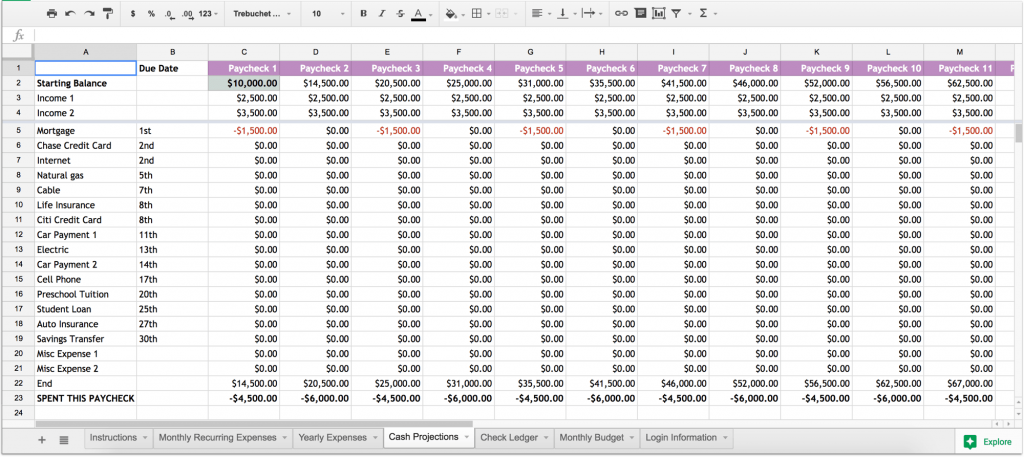 #3 Develop a Digital Filing System…
…and stick with it! I spend $9.99/month on Google Drive for 1TB of space, $.99 for 50GB of space on Apple iCloud and $35 per year on Spin Backup.
There is a method to my madness. Without getting too technical, I have issues with how the iCloud syncs between devices. Essentially, if I delete a photo off of any of my devices, it will delete the original, high-resolution photo from iCloud as well. That made me super paranoid about losing any photos of my daughter. Instead, I turned photo stream off and use the auto-backup feature from Google Drive, I then manually transfer iPhone photos to my computer and back those up to the iCloud and also put them in chronological order in Google Drive. Last but not least, everything gets backed up with Spin Backup.
I know this seems like a lot, but once you get a folder system down, it's really easy and it keeps everything organized. That's just what I do for my photos, I also have an entire system for financial records, home organization, my business, and much more. One day I will have to elaborate on how I keep digital records!
#4 Schedule Everything
A lot of people swear by time blocking. The basic premise is that you schedule blocks of time to do certain types of tasks. For example, from 12pm-1pm I would block out time on my calendar for social media. If it's not scheduled on my calendar then I don't have time for it.
This is not the exact method that I follow. I use my calendar as a hub to schedule everything I can't forget to do, not just physical events or places I need to be at. My husband and I also sync our calendars together. We use Google Calendar and I use the native iPhone calendar app to manage it on my phone. If you look at my calendar right now you are likely to see reminders like call the doctor, ballet class, and pay the water bill (because our town doesn't offer bill pay for the water bill—annoying right?!).
A great course for learning how to leverage Google Calendar is Crystal Paine's free course Make Over Your Calendar. Crystal also offers two very reasonably priced courses called Make Over Your Mornings and Make Over Your Evenings which give amazing time management advice.
#5 Strive for a Zero Inbox
This is not always possible and I often do not take my own advice, but I can tell you that when I do bring my inbox to zero, I am much more productive.
Our inboxes are a pretty sacred place, it's the hub of our entire digital life and yet we let spammers litter it. We subscribe to crappy sales emails unknowingly and never bother to unsubscribe from emails we delete every single day of our lives.
Did it ever occur to you how much time you waste deleting the same emails every day? I get thousands of emails a week and at one point I was 8,000 emails behind and I just said "screw this!" and deleted everything. I then made a conscious effort to create filters for emails I wanted to be able to search and unsubscribed from hundreds of mailing lists I'd been added to over the years. This cut down on my email traffic significantly and began to save me hours of time a week.
You wouldn't let every single person you've ever met into your home. So why do you let them into your mailbox? Treat your inbox like it's sacred space.
Looking for More Time Management Tips for Moms?
Check out my resources page for a ton more great tips and tricks. Plus visit these articles for more advice:
5 Practical Time Management Tips for Working Moms
7 Guilt Free Ways to Make Time for Yourself
9 Must Have Apps for Working Moms
5 Must Have Productivity Apps for the Working Mom
Pin it!